Colin, Vancouver BC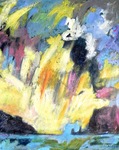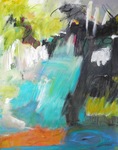 'As a surprise birthday present this past year, I was taken on an art crawl through several artist galleries throughout Gibsons and Sechelt. Christy's gallery was the first we stopped at and we found several pieces that we liked. We continued on to about 5 or 6 other galleries but ended up returning to Christy's and purchased two paintings – 'Leading Edge' and 'After the Downpour'. Both paintings and vibrant, full of energy and get lots of compliments.'

'Christy was patient and excellent to deal with. We will definitely be returning to her gallery on our future trips to the Sunshine Coast. Thank you again Christy.'

______________________________________________________________

Mylene, Saint-Sauveur, Québec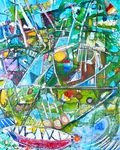 'I met Christy a long time ago without knowing how talented she was!
When she moved back to Canada, I started to appreciate her work as a painter. Her colours were so vibrant that they quickly caught my eye. Her imagination allowed me to travel to various universes.
A visit to her studio in Gibsons was a precious moment for me. With great generosity, she was able to share her professional path that was so inspirational. I totally fell in love with her work and chose
Friendship
to bring back home with me. It represents our friendly connection but also the passion for her work. It is for me, a source of inspiration for my own path as a painter.'
---
Erling and Elise, Houston, Texas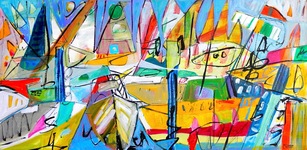 'We have known Christy for some years and have watched her art career develop with great interest. As we collect art, with some of our favorite work from artists we know personally, adding a specially selected piece, chosen via a personal 'Face Time' tour with Christy, was a meaningful experience for us. Marina Madness epitomizes the essence of Christy's current environment, blending color, style and technique. It is a most welcome addition to our collection, and a veritable talking point with visitors.
With a very easy path from purchase to shipping (the work was beautifully crated) we can recommend others to view, select and acquire a worthwhile and delightfully original painting. We wish Christy every success as she continues to engage and inspire through her artistry.'
---
Elizabeth
, Kelowna, BC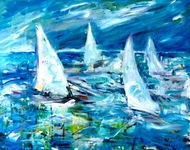 'After seeing Christy's work on line, I was immediately moved by the vibrancy of her work, and found out too late how quickly they can sell; my only regret is not purchasing the ones that jumped out at me right away; however it was worth the wait to find the four I did purchase, inspiring a long overdue kiss and de-cluttering, to stage these beautiful pieces. Purchasing was a smooth and easy transaction, with an added bonus of Christy, and her husband Dave, personally delivering them to me. They even helped me place and hang them!
My delight in owning
Nightfall, Smitty's, Flagship 1 and Sweet Song
increase the more I look at them. I am excited to acquire one of two more in the near future.'
---
Skai
, Vancouver, BC
'I took a look at your website, I love your art work. It has the whimsy and playfulness of Paul Klee with the bold compositions that brings to mind George Braque. The west coast feel you infuse into your colours and subject matter is wonderful. It is such a delight to see your work, very inspirational - thank you.'
---
Susan Bilbey, North Vancouver, BC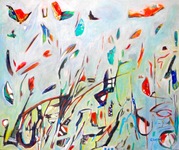 'We purchased a fantastic piece, titled 'Come Play With Me' from Christy a few years ago and love it to this day! Her work is exuberant and full of energy and we love it in our home. Viewing and purchasing the artwork was straightforward, and we had the artwork up in our home quickly and simply. We have it in just the right spot and it makes a great addition to making our house a home.'
---
Cari ann Cordy, Houston, Texas
'I had wanted a painting of Christy's for a few years and now I happily have one. I love my little painting, It's bright and cheerful. The purchasing process was quick and easy.'
---
Irene and Rolf Hanekamhaug, Stavanger, Norway.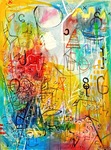 'When we decided to buy Canadian art to remind us about our stay in Calgary, we wanted the paintings to talk to us, to provide light and to recall good memories at the same time as they should be colourful and provide different interpretations. We ended up buying three of Christy's paintings, the Letters Home, the Rising and the Temples. The transport from Gibsons, BC to Calgary, AB and payment of the paintings were effectively organized by Christy.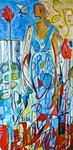 We feel that the paintings meet our objectives in three different ways. We can't wait to get them up on the wall in our home in Norway. Hurry up movers!'
---
Dawne Miller, Nova Scotia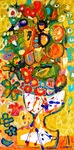 'I have recently purchased one of Christy's joy-filled paintings and couldn't be happier! From the moment I made the decision to purchase the painting to the day I received it via courier, I was on cloud nine! Christy and her dear husband packaged the painting so that nothing could possibly happen to it as it travelled from the West Coast to the East Coast. It now resides happily in my home where I get to look at it each and every day! I couldn't be more thrilled.'